This post was supposed to be "
11
things you don't know about me" but then I was lucky
enough
to be tagged by two so yay more questions for me! (Both of them asked the same last question so I just combined them into one hence 22-1=21)
Thank you to Ida and Zoe for tagging me! I'm actually supposed to tag 10 other bloggers but since all my blogger friends were already tagged I'll just make this a cross-over post.
So if you want to know more about me keep on scrolling!
1. Do you have hidden talents? If so, what are they?

I have the ability to do any high intensity workouts and not drip any sweat. I do sweat but never to an extent where you see droplets forming and dripping. The shirts I wear are almost never wet with sweat. It frustrates my teammates and my friends a lot telling me how "lucky" I am but you guys don't know how it feels like to no sweat and have your body heat up so much and all that heat is trapped inside and it can't escape. (I only sweat when I do physical activities at home but aside from that nopes.)
2. Name 3 things you can't leave the house without.

3. If you were in a car, rain started to pour, and you were looking outside the window, what's that one song that would play in the background? (Click on the song titles to listen)

4. What's a movie you'll never get tired of watching? (Add a fave quote from it.)

CHRONICLES OF NARNIA.
I just love how they made the movie because its exactly how I imagined it would be from reading the books and I can watch it with anyone be it my friends or my family. Its fun for everyone to watch and the story is flawless. And now hearing that they're making "The Silver Chair" I can't help but feel excited for how they will translate that beautiful book into the big screen.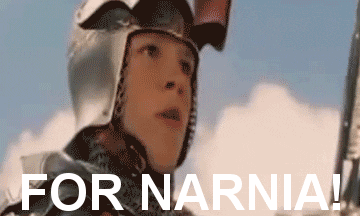 "For Narnia…. FOR ASLAAAAAAAN!!!"- Peter Pevensie
"Things never happen the same way twice, dear one"- Aslan
"Extraordinary things only happen to extraordinary people" -Reepicheep
And last but not the least....
"You are a mouse"- Prince Caspian
5. If you could only drink one beverage (besides water) for the rest of your life, what would it be?

I would usually go for Iced Tea but since I want to stay healthy then Strawberry or Mint Tea because hooray for living healthy! (yeah right Chels)
6. Would you rather be a mermaid with a hideous tail or a fairy with hideous wings? Why?

Fairy with a hideous wings. Since faries have powers I can just use my magic to make my wings pretty! HAH! #clever
7. Who is your ultimate bae? (… I had to.)

Uhm… uhh…. Haha… Kim. Jong. In.
I have other

favourites

in other groups who are noisier, funnier, and more attractive than him in many ways but whenever I see him dance its always different from how other idols dance. Most of them dance for the heck of it, or because they want to look good and stuff like that, they're great at dancing but when Jongin dances I can actually see his love and passion for it, like he was born to perform and be on stage.
My love for him isn't like the typical fangirl love anymore, its more of like a love for someone I really respect and look up to.
8. What was the first fiction book you've read?
CHRONICLES OF NARNIAAAAA!!!! From Lion, The Witch, and the Wardrobe up to the Last Battle. I really loved the whole series, the book may be small but the amount of adventures in those pages are enough for me to build a bond with the characters in it.

9. If you could live anywhere (even in a fictional world), where would you live?

Non-fiction places would be in Australia because I really find it nice there because its full of kangaroos and koalas, New York can be nice too so I can live with my best friend (hi Ciara haha).
For the Fictional places of course I would want to go to The Wizarding World because Butterbeeer and Broomsticks. I can only dream of not having to climb the stairs to get something I forgot and just say "Accio phone charger!!!" while not getting up from our comfy sofa.
10. I also want to know, why did you start blogging*?

I've wanted to blog for a very long time and one day I was bored out of my wits and decided to try it out. Sadly though I still haven't found that inspiration to keep on writing but thanks to this tag I get to write something down without thinking too much! Haha I love you Ida and Zoe!
11. If you could be any object for a day, what would you be?
I would want to be a mirror and have the ability to talk so I can tell people how awesome they look instead of them looking at what's wrong.
12. How would you spend a lazy afternoon?
I would spend it catching up on the Korean shows I've been missing like Return of Superman (BABIEEEES) and Show Me The Money (SWAG OVERLOAD). Once I'm done with those I go on my phone and read stories.
13. Any fears or insecurities? No judging, I promise!
To sum it all up I'm insecure with my body like my legs and things and tummy. I do try to tone them sometimes but most of the time I just say "What the heck" and just accept that whatever I have just makes me who I am and once I think of them that way it's not that hard to embrace my insecurities anymore.
14.What's your guilty pleasure food? (aka the diet deal breaker)
My mother's Tuna pasta carbonara, Kettle's buttermilk fried chicken, and ICE CREAAAM!!
15. 3 things on your wishlist right now?
16. Favorite song to sing in the shower? (Click on the song titles to listen)
It depends on my mood actually. If I want to have fun I will sing (and dance) to Beyoncé's 7/11 and Love on Top or Sistar's Touch My Body.
When I feel like screaming or just mad at everything I rap (but mostly listen to) Epik High ft. Beenzino, Verbal Jint, Bobby, BI, and Mino's
Born Hater
because its perfect for stress relief.
But if I want to just jam in the shower and have my own mini concert there I would sing Queen B's
Diva
, Big Bang's
BANG BANG BANG
and
Fantastic Baby
, and maybe add in some Taylor Swift and Adele songs in there as well.
17.
Who or what motivates you?
Without a doubt it would be my family, the Lord, and my dreams. Once I start saying that my dreams are too far away to reach my family and God will be there to remind me that it may be far away but I too will get there someday.
18.Imagine your idol standing in front of you right now. What would you want to say to them?
Hi, hello. Please tell me where did you get the courage to do what you did? What were the sacrifices you had to make? Were those sacrifices worth it? Any advice you would want to give me? I hope to dance with you on stage one day.
19. If you could bring back one historic figure from the dead to have lunch with them, who would that be and why?
Jose Rizal. I want to show him the Philippines today and see if what we are now is worth whatever he has fought for in his past life. If lucky I would want to ask him what advice he can give us Filipinos for us to love our country more
Smoking and spitting on the streets are on the top of my list. Its not that I don't like the people I just find it really unpleasant to look at (especially those people who huff in front of my face).
21.
Who are your favorite bloggers/Youtubers/Twitter accounts/Instagram people/whatever?
BLOGGERS (Click on their blog's name to visit their site)
Celina the Unicorn (Celina Cruz)
Celina is my first blogger friend who encouraged me to start up my own. She is one girl who color the world with rainbows and glitter because she is one very kawaii unicorn. What I love about her is how she can change up her style so much but still have her special touch in each and every one of them. She just moved to a new domain this year and I am already excited for what more she can share with us in the near future.
Let me start off by saying this blog wouldn't be up and running without this girl. She helped me with the layout and the designs and I have nothing but thanks for this wonderful person right here. Keith is a promising lifestyle and fashion blogger and an aspiring videographer. She rocks the sophisticated and laid back style but doesn't forget to add her own twist of "Keith" into everything she does. Check out her blog for more of this girl's awesomeness.
Now this girl is the ultimate "DIY Queen" (most of her friends call her that) and I couldn't agree more. From Crocheting beanies to making lip crayons, this girl has no limits to what she can do with her hands and talent. These days he style has been gravitating towards the monochromatic colours, I don't know how she does it but she can work those colours anyways (even if most of them are black). Oh and did I mention that she owns her own shop too?
YOUTUBERS (Click on their names to visit their channel!)
Not only does she have great hair and genius puns, she can also put both the
dance floor
and the kitchen on fire!!! I love Megan because she's so down to earth. She shows us that we're not the only ones struggling with FroYo cravings and being ripped off by McDonalds. Plus she has awesome dance videos and easy to follow and very fun cooking tutorials that I'm sure everyone will enjoy watching!
POWER COUPLE is the best way to describe this combo. These two know how powerful the art of dance can be and they plan on using to it it highest potential. Both of them as individuals are already amazing but when you put the both of them together you get nothing but pure passion and love for each other and for dance. Go and check out their channel and be thrilled by the power of dance and the inspirational stories that come with it.
This girl is my favourite fitness youtuber. Her fun, friendly, and encouraging attitude helps me get through the intense workouts that she gives. I love how she always says "Choose happy" when people ask if they should bulk up or slim down. She is the ultimate ball of sunshine for me and she will always be an inspiration for me to get fit and get into shape. If you have 5 minutes to spare go on down to her channel and try out one of her 5 minute workouts!
Now that's done, I hope you enjoyed the questions and my answers to them!
Comment down below what you think!
Until next time!
Cherrio!